NEW DELHI – Govind Ram is still awaiting justice for the death of his daughter in 2019 – who is believed to have died from tainted cough syrup.
In December 2019, Surabhi, two years old from Ram, had a fever and chest congestion. Ram, a laborer from Udhampur district in India's Jammu and Kashmir region, took his daughter to a local doctor who prescribed her cough syrup.
But her condition deteriorated further and she was taken to a sub-district hospital and then to a district hospital. Doctors there told her father to take her home as there was no chance she would survive, and she died soon after.
Ram is unsure if he will ever get justice for the death of his daughter, who authorities say died after ingesting contaminated cough syrup.
Earlier this month, the death of 66 Gambian children were linked to contaminated cough syrup made by the Indian company Maiden Pharmaceuticals. Cough syrups made by Maiden were contaminated with diethylene glycol (DEG), commonly used in antifreeze, and ethylene glycol (EG).
The Indian government has halted production at the company's facilities in Haryana at the request of the World Health Organization (WHO).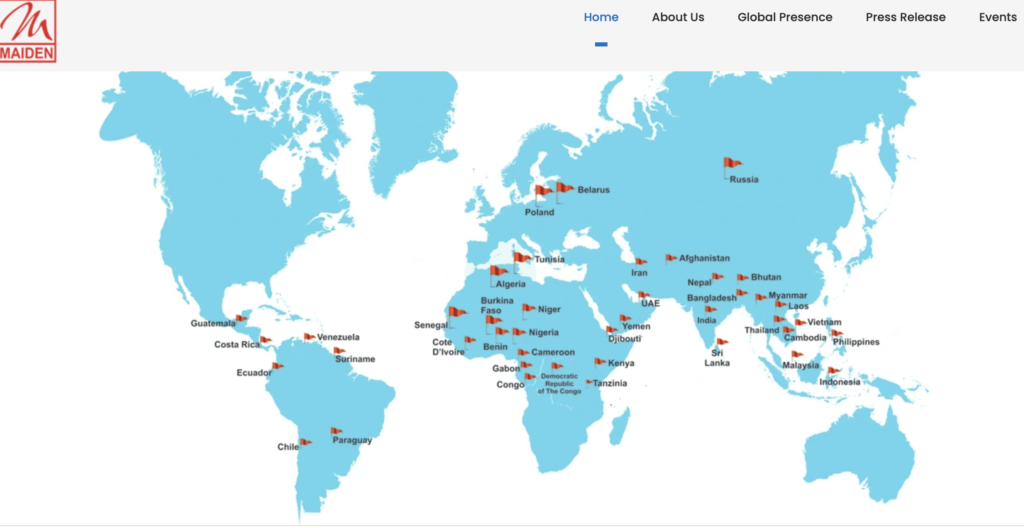 Not the first time
This is not the first time that such contamination has been alleged in Indian pharmaceutical products where substandard and contaminated drugs remain a widespread problem.
Between 2019 and 2020, 13 children died after being given cough syrup adulterated with DEG in the northern state of Himachal Pradesh. The deaths of 12 other children in Jammu, including Surabhi, are also believed to have been linked to their consumption of DEG-contaminated cough syrup.
Both syrups were reportedly made by Digital Vision, based in Himachal Pradesh. Two years later, the Drugs Control Administration (DCA) of Himachal Pradesh has yet to complete its investigation of the cases, which would allow charges to be filed.
"The company's manufacturing license was suspended, but later restored, first partially and then fully," deputy drug controller Garima Sharma said, but did not explain how it happened then. that the investigation was not over.
Lax regulatory authorities
These are not isolated cases. The manufacture of substandard – and in some cases unsafe – drugs in India is rampant, and the lax implementation of regulations allows manufacturers to escape any consequences.
While selling substandard drugs is a serious offense under Indian law with a minimum jail term of one year and fines for manufacturers, the provisions of the law are rarely enforced against errant drug manufacturers. . In most cases, regulators simply suspend the drugmaker's license for a few days.
Take Digital Vision, which is supposedly being investigated for Surabhi's death. It has 19 quality standards violations since 2009, but regulators have taken no meaningful action against it.
India's Central Drugs Standard Control Organization (CDSCO) October monthly alert identifies 59 drugs that failed to meet safety standards, including painkillers and calcium.
"Due to repeated sample failures of these drugs, action has been taken against them," said Himachal Pradesh Drugs Controller Navneet Marwah, explaining that the drugs had been withdrawn.
"Monitoring is needed from the time the drug is made until it reaches the patient, as it is a matter of life and death," said Amulya Nidhi, national co-host of the People's Health Movement of India.
"After giving the authorization to manufacture a drug, it is necessary to see if the procedure and the directives relating to it are followed or not. These are regulatory failures.
"It is also important to see what action they have taken after the deaths of so many children. They did nothing. Issuing notices to drug manufacturers cannot be called action when innocent lives are being lost," Nidhi added.
According to Nidhi, a 2012 parliamentary report by the Standing Committee on Health and Family Welfare on the operation of the Central Drug Standards Control Organization (CDSCO) found instances of collusion between manufacturers, doctors and pharmaceutical companies. regulatory agency and had made a number of recommendations for a drastic overhaul of the CDSCO.
"It is a regulatory failure and the oversight process is very weak in our country that is responsible for such a condition," he added.
Expired drugs and fake COVID-19 treatments
Many other instances of substandard drugs being manufactured or sold have been reported in the recent past. In February, a company of Agra in the northern state of Uttar Pradesh bought expired drugs at low prices, repackaged them and resold them.
The Authentication Solution Providers Association (ASPA), an organization that combats counterfeiting activities, said that fake Drugs against covid-19 had been found in most Indian states over the past two years, especially at a time when there was a severe shortage of COVID-19 products.
India lacks proper regulations for the pharmaceutical industry and the regulations and legal structures are not well defined, according to ASPA.
Substandard Indian Drug Exports
India is the world's largest manufacturer of generic drugs, with sales of over $2.4 billion in March 2022 alone.
But some experts estimate that probably between 12% and 25% of active pharmaceutical ingredients and finished medical products supplied globally from India are contaminated, substandard or counterfeit.
Ministry of Health asks public to avoid drugs from Indian company Maiden Pharmaceuticals https://t.co/yfmxGBoCjr #Gambia #Gambiana

— Gambian (@gambiananews) October 24, 2022
In the case of tainted drug deaths sold in The Gambia, Indian regulators allowed a repeat offender company to export substandard drugs, public health activists Dinesh Thakur and T Prashant Reddy told india today. Thakur is the co-author of a book called "The Truth Pill", about substandard drugs in the Indian pharmaceutical industry.
"A Certificate of Pharmaceutical Product (CoPP) is required by the importing country when the product in question is intended for registration, with the scope of marketing or distribution in that country," they said.
CoPPs, effectively export permits, are issued by CDSCO under the central government's Ministry of Health, they added.
"Therefore, it was not correct to suggest that the Haryana state regulator had given approval to this drug and that the central body had nothing to do with the approvals," they said. said, adding that the same cough syrups were also licensed for sale in India – contrary to government claims that they were only marketed for export.
WHO investigation ups the ante
While the problems with poor quality medicines have gone unnoticed for years, the recent alarm raised by the WHO over the four types of substandard cough syrups made by Maiden Pharmaceutical has drawn attention to the problems in Game.
India's Ministry of Health and Family Welfare said the Central Drugs Standard Control Organization has taken up the matter with regulatory authorities in Haryana, under whose jurisdiction Maiden's drug manufacturing unit is located. The Government of India and the Government of Haryana have imposed a ban on Maiden Pharmaceuticals.
External Affairs Minister Dr S Jaishankar told his Gambian counterpart Dr Mamadou Tangara that the matter was being seriously investigated by the relevant authorities.
Despite the mounting claims and evidence, India's mainstream medical community has been slow to respond.
"It is too early to say that the syrup has caused deaths in The Gambia. The syrup sells a lot, but it is clear that the children had not eaten anything else that could have caused their death," said Sahajanand Prasad Singh, president of the Indian Medical Association.
Dismissing reports from the WHO that syrups used by children had been tampered with, he added: "I don't think consuming syrup alone would have such fatal consequences."
However, the WHO has made it clear that the syrups sold in The Gambia and used by children had indeed been adulterated with a toxic compound that could cause death. Although the world health agency has made it clear that the exact cause of death has yet to be determined.
Weak or substandard drugs are also a major driver of antimicrobial resistance – which is also reaching epidemic proportions in India. Experts say India is one of the countries most affected by antimicrobial resistance. Neonatal antibiotic-resistant infections alone kill around 60,000 newborns each year. A new government report says things are getting worse, with tests carried out at a hospital revealing that a number of key drugs were barely effective.
Image credits: Bijay caurasia, CC BY-SA 4.0 via Wikimedia Commons, Maiden Phrama.
Fight the infodemic in health information and support reporting on health policies from the Global South. Our growing network of journalists in Africa, Asia, Geneva and New York connects the dots between regional realities and major global debates, with evidence-based, open-access information and analysis. To make a personal or organizational contribution, click here on PayPal.