FE REPORT |
Published:
March 04, 2022 08:54:29



---
Bangladesh needs a comprehensive urbanization policy as well as the formulation of a dedicated institution to deal with the challenges of urbanization amid climate change, experts said Thursday.
The impacts induced by global warming would create tensions on several fronts for the country in the days to come – enhancing the flow of people migrating to major cities from coastal regions. Thus, it would increase the demand for jobs, housing, transport and other necessary services, they added.
An appropriate urbanization policy would help address the challenges by ensuring a fair distribution of economic and social opportunities, they said.
The suggestions came from a technical workshop – "Making Urbanization Happen in Bangladesh" – organized jointly by the Bangladesh Institute of Development Studies (BIDS) and the World Bank (WB).
The Director General (CEO) of BIDS, Dr. Binayak Sen, chaired the event.
In a presentation, Dr Forhad Shilpi, Principal Economist in the Sustainability and Infrastructure Team of the Development Research Group – the WB, said that the urbanization that has taken place over the past decades has remained un structured and mainly concentrated in Dhaka and Chattogram.
But the latest evidence has shown that the urbanization process has slowly spread to other parts of the country.
"But there are two major concerns – how can the country deliver it more productively and manage the effect related to the climate challenge."
She noted that climate change would force many people in coastal regions to migrate to urban areas, which would lead to traffic congestion and increase demand for housing and connectivity.
"To meet these challenges, an appropriate urbanization policy as well as effective urban institutions are needed," she added.
DG BIDS said that the share of urban population naturally increases with the economic growth of a country. This also happened in the case of Bangladesh, as the share of urban population was only 5.0% in 1974, and now it exceeds 40%.
In the context of urbanization, climate change poses two major challenges: migration from vulnerable regions in the south of the country to northern regions, and adaptation.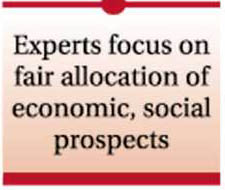 "We need to think about the urbanization pattern in northern cities. Many people will not migrate and stay there. So we need to pay more attention to adaptation."
The rural economy would be affected unless urbanization in small towns or cities outside big cities is done in a planned way, Sen added.
Citing the Delta 2100 Plan, urban planning expert Prof. Nazrul Islam said the government had identified six hotspots including urbanization.
"There is no officially accepted policy yet. If the government follows a proper urbanization policy, there will be a more equitable distribution of economic and social opportunities," he said.
Citing a news report, former finance minister M Syeduzzaman said the average longevity of residents here was reduced by three years due to climate change and poor air quality.
He suggested that policy makers should properly address relevant challenges and plan urbanization with equitable distribution of resources.
Economist Mohiuddin Alamgir focused on empowering local government bodies that would be able to provide needed services and create a pleasant environment.
He also emphasized good land use governance to ensure appropriate use of existing land in a planned manner.
Dr. Ashikur Rahman of the Bangladesh Policy Research Institute focused on institutional development to address important issues related to urbanization.
[email protected]