The recently announced National Logistics Policy (NLP) has the potential to be a game-changer for Indian industry.
Its objective is to respond mainly to logistics costs which represent approximately 14% of GDP compared to only 6% to 8% in developed countries. As the country is emerging as a manufacturing hub for a host of industries and exports are expected to increase accordingly, falling logistics costs will boost the competitiveness of Indian products at home and abroad.
It will also improve efficiency across all sectors while encouraging value addition and entrepreneurship. The Center is currently finalizing the National Logistics Efficiency Improvement Predictability and Security Bill (NLEAPS).
Mobility outlook spoke with different players in the logistics ecosystem to get their point of view on NLP.
Ganesh Mani S, President and Chief Operating Officer, Ashok Leyland said this will enable modern and efficient operations in the automotive industry. As he said, NLP is not just about interconnecting Gati Shakti but also emphasizes digitization.
"From an OEM perspective, this is a huge opportunity as many aggregations will occur and improve delivery times. Automation has already played a huge role in logistics and digitalization will give new impetus to operations," added Ganesh Mani.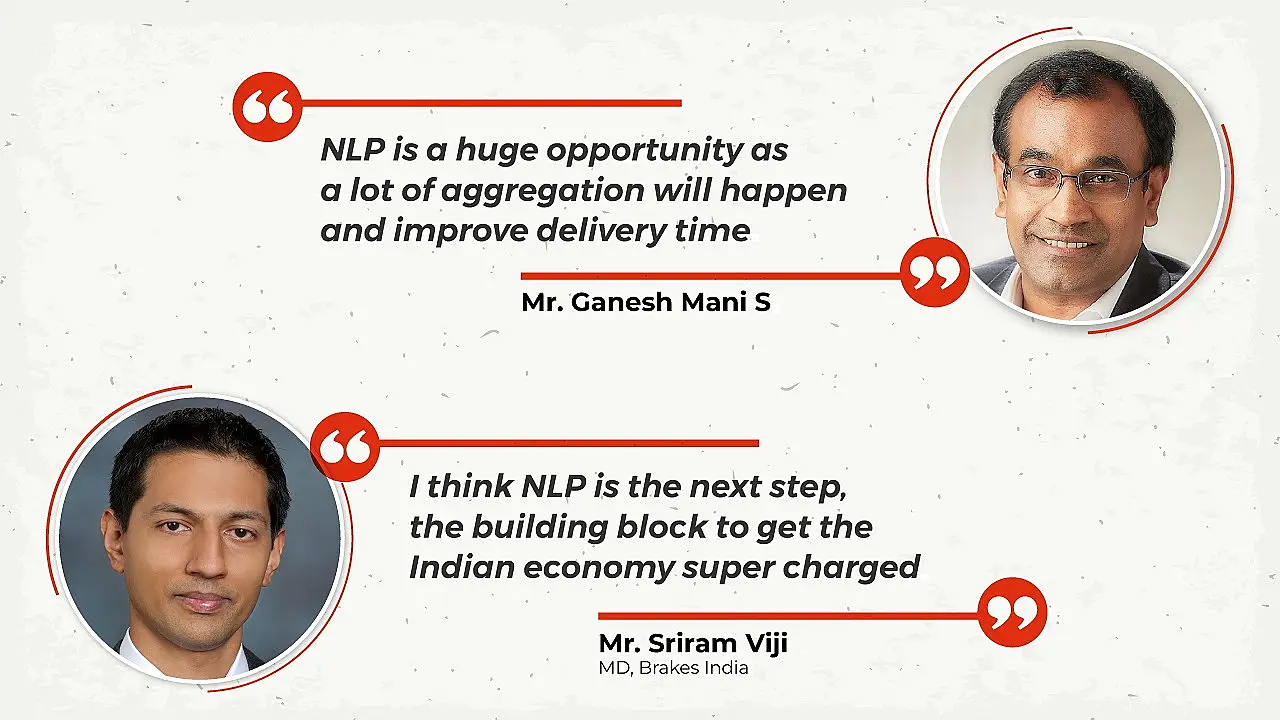 Speaking from the perspective of auto component manufacturers, Sriram Viji, Managing Director of Brakes India, said that the NLP is very timely as the auto component industry faces the cost of logistics and transportation, which is 3 to 4% higher than several other countries. NLP can help provide scale to many players in the automotive component industry. Rather than being a regional player by setting up factories across the country, this allows for much more seamless delivery from any location.
Shipping and Ports
Ennarasu Karunesan, maritime and port expert, founder of UMK Group and regional representative of IAPH in India, said that the three pillars of NLP – infrastructure, services and human resources – are being boosted to meet emerging needs.
With NLP, port turnaround time will be reduced to less than a day by 2030 from around 26 hours now, he said. It was more than a week until a few decades ago. In addition, the creation of dedicated corridors like highways and railways would be a big boost.
On the service side, Karunesan believed that technological developments in port communications, the development of national logistics ports and ULIP would create a plug-and-play system. It will take a big step forward with artificial intelligence, machine learning and blockchain technologies.
Regarding human resources, he said the country has already moved from a workforce to a digital workforce, although the need of the hour is skills development programs and knowledge.
AV Vijayakumar, MD, Paramount Shipping and Past President of the Federation of Freight Forwarders Association in India, said that NLP is linked to the Gati Shakti program. This will involve the creation of infrastructure and coordination with other ministries such as railways, ports and waterways, highways, civil aviation, trade and finance.
"Multimodal transport and ULIP have digitized the whole spectrum of logistics. The connection of around 200 airports under UDAN, cabotage (to reduce road transport), the simplification of customs procedures, etc. are part of the NLP. All this will reduce logistics costs and time," he said.
Integrated logistics
Vikash Agarwal, managing director of Maersk South Asia, said the NLP would reduce costs, implement technology, create greater export opportunities and decarbonize logistics.
Raghu Sankar G, Executive Director, International Clearing & Shipping Agency (India), did not quite share these enthusiastic sentiments as he felt the Center was in a rush to announce NLP without the policy in place. "I'm not critical but worried," he said.
From his point of view, the current logistics cost figure at 14% or 15% is unscientific. There is no in-depth study or standard to arrive at the current cost, as bulk cargo differs from containerized cargo.
Upcoming challenges
According to Ganesh Mani, India has successfully implemented Aadhar and GST, which were more complex, but NLP has a head start as multiple agencies, stakeholders and physical entities are involved. Undoubtedly there will be more challenges but can be done comfortably with Aadhar and GST experience. "With all stakeholders involved, implementation will be faster," he said.
Sriram Viji said the country has developed well with the implementation of GST and e-invoice which has simplified the movement of goods. "I think NLP is the next step, the cornerstone to make India's economy supercharged. It will make India competitive globally.
Raghu Sankar was concerned about the implementation. "Our intentions are good but the implementation is always bad. There is a huge gap between thinking, conceptualizing and executing," he added.
Even though NLP strives to reduce logistical costs, the "cost of compliance" is invisible and inflates overall costs. Raghu Sankar said India has not developed software to handle these requirements comprehensively. "We are moving in the right direction but I'm not sure the support structures will line up," he said.
Cost reduction
According to Vikash Agarwal, the real opportunity for cost reduction comes from improving processes, connecting key players and implementing technology and this is where NLP will lay the groundwork. Fewer transfers mean higher efficiencies and lower costs, and these steps align with what NLP sets out to accomplish, he said.
Ennarasu Karunesan believes the new policy will also help meet the needs of the 3.2 million square kilometer hinterland by setting up a dedicated trade corridor. By 2030, there will be huge logistics cost benefits as the policy creates the required ecosystem, he said.
Vijayakumar was confident that India could reach $1 trillion in services and goods exports by 2030 (the figure was $419 billion last fiscal year) with all key ministries combined. "The fine print will shed more light on politics," he added.
Potential pitfalls
Ganesh Mani hoped that with all stakeholders jointly focusing on in-store benefits, the challenges could be overcome.
Raghu Sankar said that each logistics activity is autonomous and efficient individually, but not collectively. NLP aims to bring collective efficiency by digitally connecting different elements. However, the digital system available today is self-contained and there is no complete logistics model that can be linked to activities such as transportation, warehousing, etc.
For example, Customs has introduced "faceless valuation", which is conceptually good, but the gap between decision-makers and implementers can hinder the achievement of objectives. Additionally, state governments will need to work in tandem, as Tamil Nadu, Telangana and Karnataka are working on their own logistics policies.
"While we fully support the ambitions of NLP, we must not let procedural hurdles stand in the way of the progress made so far and planned for the future. We need clear steps towards which the whole industry can work ", signed Vikash Agarwal.
Conclusion
While NLP is a great initiative, implementation is key. Several ministries have a say in the logistics ecosystem, and coordination between them will be difficult. Moreover, there should be an authority to control all these entities for effective implementation, Vijayakumar said.
According to Ennarasu Karunesan, time and cost play an important role in logistics and will be reduced with dedicated corridors and other supporting infrastructure coming into play.
Raghu Sankar said that although NLP has immense potential, there must be precise focus with the involvement of all stakeholders and strong authority to make the intention a reality.
According to the World Bank's Logistics Performance Index (LPI), India ranked 44th in 2018, 35th in 2016, 54th in 2014 and 46th in 2012. LPI is a semi-annual report that scores 168 economies on how effectively supply chains link companies to national and international opportunities.
As India is a signatory to the World Trade Organization and several other global bodies and a party to country specific agreements, the country must improve its ranking in this index, it must strive to become the third largest economy by 2030. Part of the NLP's goal is to place the country in the top 25 LPI ranks.
Read also :
Global Logistics Automation Market Expected to Grow at a CAGR of 12.8% through 2027
Maersk launches into air freight to offer integrated logistics
Ashok Leyland launches AVTR 4825 tippers with H6 engine
Brakes India sets benchmark in supplying green castings for Volvo